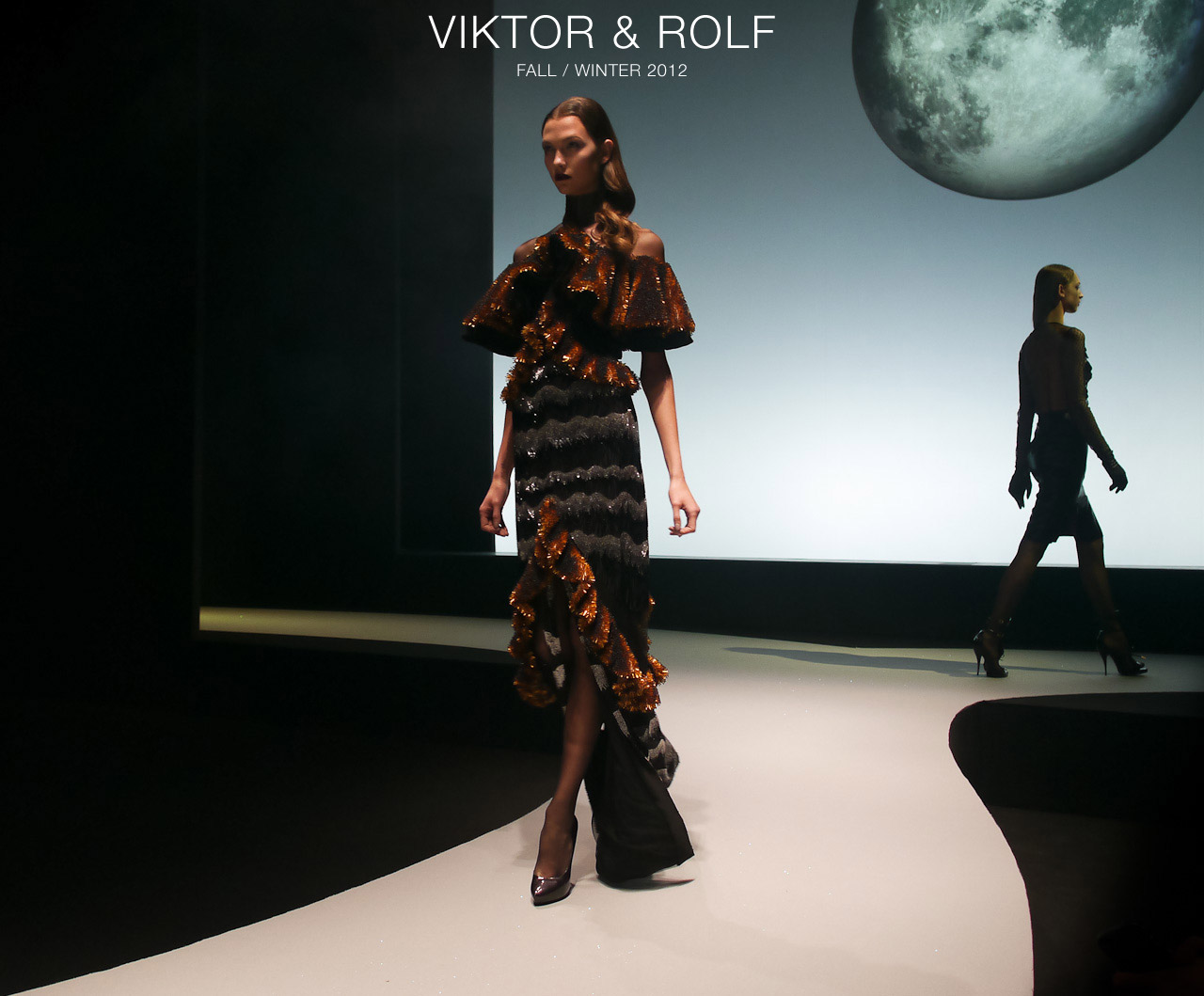 Viktor & Rolf Fall/Winter 2012
A pale moon rises in the distance and the Viktor & Rolf heroines emerge, stepping out from darkness and appearing in graceful silhouettes before an awestruck crowd. This may sound slightly melodramatic, but as fashion's foremost purveyors of theatrics, Viktor Horsting & Rolf Snoeren know how to bring a story to life on the runway. Their artful presentation is half the fun: this season the duo outdid themselves, with a spooky set and shadowed figures striking poses before taking a leisurely stroll down the catwalk.
Fall's tale was all about the beauty of contrasts, a look that was powerful yet moody enough to conjure ominous imagery. That meant inky jet-black pieces, silk-satin pajamas for day, thick pelts reshaped with razors, and a flash of skin through transparent tulle as demure ruffles covered the rest of the body. Accessories played with hard and soft, utilizing tortoise shell and fur to great effect – expect those high boots to fly off store shelves the minute they arrive. The tour de force ended with a series of finale dresses that dazzled with their tiers of fabric and sparkle. Upon first glance it seemed like even more fur adorned those scintillating gowns, but a closer look revealed that the fringe was painstakingly crafted glass embroidery.
Casting: Andrew Weir for ACW
Hair: Luigi Murenu
Makeup: Pat McGrath
Stylist: Katie Shillingford
Production: Alexandre de Betak for Bureau Betak
Photos: Stephan Moskovic
Text: Janelle Okwodu